Equine-Assisted Psychotherapy
What is Equine-assisted Psychotherapy?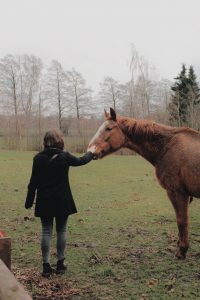 It's not therapy for horses and it's not about riding or horsemanship…
Equine-assisted psychotherapy is about connecting with horses to improve your mental health, practicing different ways of being, and experiencing a physical, external representation of what we are working on in your therapy sessions. This makes translating changes to your life outside of therapy easier and can have a bigger impact than just talking about making changes.
It is an experiential approach that incorporates evidence-based methods of therapy like Cognitive Behavioral Therapy (CBT), Dialectical Behavior Therapy (DBT), Narrative Therapy, etc. with in the moment interactions with a herd of horses in a natural environment. It's also a wonderful way to practice mindfulness of your internal experiences and external surroundings.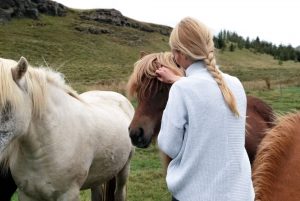 Horses are prey animals with complex social systems making them very sensitive to their surroundings and interactions, including body language, verbal and nonverbal communication, and emotions of those around them. They can even pick up on nonverbal and emotional cues we may have no idea we are putting out in the moment. Their reactions, behaviors, and interactions with you can be used to illustrate in the moment issues and interactions that also occur for you outside of session and to build metaphors and narratives that can be applied to daily life, stressors, and relationships.
What Will Sessions Be Like?
        You do not have to know a thing about horses to participate in and benefit from this type of therapy. All sessions occur with all feet on the ground and there is no riding or horsemanship. Interacting with horses, up close and personal, can be a powerful experience, can take us out of our comfort zone, and can reveal a lot about ourselves. They can help you get outside of your head and into the moment.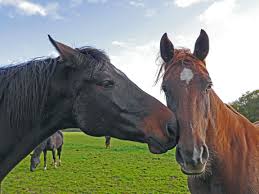 I have been certified in the Equine Assisted Growth and Learning Association (EAGALA) model of equine-assisted psychotherapy since 2015 and provide sessions in partnership with Kindred Equestrian and Willow Equine in Mooresville. Sessions are held on beautiful 40 and 50 acre farms (farm location determined by referral source and availability). All sessions include an EAGALA certified mental health professional, equine specialist (ES), and our team of horses (or llamas, cats, dogs, or other farm creatures that may be present.) The EAGALA organization is always working to build research on the effectiveness of the model and to establish it as an evidenced-based approach in it's own right, even aside from the evidence-based interventions that are already incorporated. The current small but growing list of research on the model can be downloaded here.
Sessions are more focused on "doing" and "being" in the moment with the horses, rather than focusing on talking. Myself and the ES will give you space while observing the horse's behaviors, communication, and interactions with you and with each other and use these observations to build metaphors, discuss relevancy and parallels to your life, and practice change.  There is no right or wrong and we encourage you to explore, problem solve, and make mistakes to figure out what works for you. These sessions provide a safe space for trying out different behaviors and ways of responding to difficult emotions or situations in the moment while receiving feedback from us, the horses, and the environment.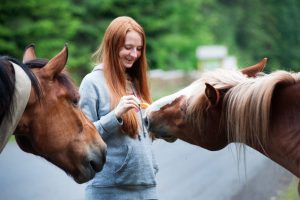 What Equine-Assisted Psychotherapy Services Are Offered?
           Equine-assisted psychotherapy can be effective for many different issues and I have used this approach with all different ages and types of presenting concerns, including but not limited to anxiety, depression, animal care professionals, autism, adoption and attachment, trauma, divorce,  grief, and anger.  I currently offer the following types of equine-assisted psychotherapy sessions:
Individual Sessions
Team Building for Animal Care Professionals
Mini Mindfulness Retreats
Divorce Recovery Groups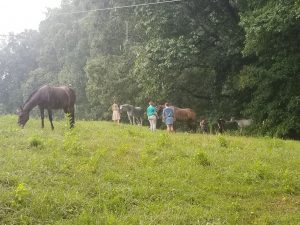 Is Equine-Assisted Psychotherapy More Expensive?
No, It is the same price to you as regular office sessions would be. Equine-assisted psychotherapy sessions can even still be submitted to your insurance because, even though our office happens to be outdoors, they are still billed as normal mental health office sessions,  use evidenced based practices like DBT and CBT, and your mental health diagnosis and treatment goals remain the main focus of the sessions. It is not the same as hippotherapy or therapeutic riding which are not covered and focus on physical health rather than mental health. View the investment page for more information about paying for sessions.  Please note that I do charge the full session fee for any less than 24 hour cancellations of Equine-assisted sessions due to having to also pay the Equine Specialist for their time and farm facility for the use of their space, so communication and adhering to the 24 hour cancellation policy is extremely important for these sessions.
*Some of the equine-assisted groups we offer may not be covered by insurance, not because it's equine-assisted, but because the participants have not participated in an initial assessment and received a diagnosis as required by insurance prior to attending, it may be on a drop-in basis rather than part of a formal plan of treatment, or the group may focus on activities or topics that are not covered by insurance. We clearly reflect the price on information shared about these groups and whether or not insurance is accepted for them.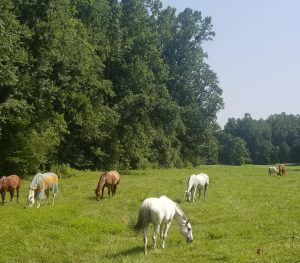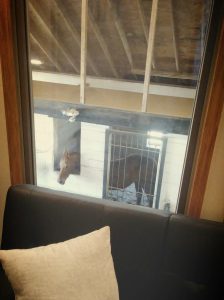 Can I Ride/Observe/Volunteer/Work/Help with the Horses?
In short, no. We know the animals are wonderful to work with and powerful connections can be made, however as with anything in life boundaries and limits are necessary.  We do not offer riding instruction. We do not offer volunteer, observation, community service, stable hand, or work opportunities. The partnering facilities of Willow Equine and Kindred Equestrian are also unable to offer these services to you if you are participating in therapy because this poses conflict of interest and what's known as a "dual relationship" which could interfere with your privacy and progress in treatment.
Our primary purpose is to provide therapy to you and help you achieve your mental health goals. Part of our job, as with any type of therapy, is to maintain appropriate boundaries to help ensure your success.  You would not be able to go to your therapist's office outside of your session time or help with administrative duties at the office, we apply the same rules to the farms.
We ask that you do not visit the farms or the animals outside of your scheduled session times to respect other clients and events that may be occurring at the farms or nearby residences.